As I am a new contributor who is trying to build up a solid reader base, (and not get anyone offside) I am yet again going to address sauvignon blanc in this column. As I have mentioned before, it is my intention to get you all trying and enjoying OTHER varieties (hence the name of my column). As such, I have come up with a solution if anybody feels that time away from their kiwi savvy blanc is getting all too much. Here it is. Pack a passionfruit in a brown paper bag. If you start to feel any twinge of uneasiness, inhale deeply. This action has a dual purpose. It will calm your nerves whilst administering that passionfruity hit that you are craving. Right, let's get on with it.
Winter is here. Usually this is the time for cracking open the reds. This month I am focusing on blends. In fact, I would even go so far as to say "blends are the new black". There you go, I just quoted myself. What I love about drinking a good blended wine is the comfort and harmony of them. They can be great value for money too, and that certainly doesn't mean they are all of poor quality. In fact, I enjoyed "Brokenwood Cricket Pitch cabernet/ shiraz/ merlot/ petit verdot" blend for around the $15 mark. I found there to be lots going on in my glass. There were lovely berry nuances and a whiff of violets, as well as a little eucalypt and some vanilla oak. The oak didn't overpower the palate, rather was balanced by red berries and a little bit of plum with enough acidity to round out the experience.
This was really pleasant to drink. In fact- and I don't encourage this exactly, but you really don't need to have any food with this at all. This wine was lovely just on it's own. I find that this happens frequently with blended wines. There is enough to be gained from the glass as you taste the best parts of the different varieties. This is what I meant by harmony. With a really special blend, harmony and balance really comes to the fore. Example, and I know I have spoken about these people before, but Moorilla do an outstanding example of blended wines in their "cloth label "range. The cloth label range is from their St Matthius estate, north of Launceston. A few months back I interviewed Conor van der Reest, the Chief Winemaker there. In our chat, we were discussing the terrible rap that blended wines often get. Conor said that much of this came about "based on a business decision made decades ago". Conor is referring to the way in which some winemakers bottle the left-overs from different varieties together under the one label and sell it at a discounted price. The slops, so to speak. Unfortunately this practice has tarnished the reputation of some very purposefully blended wines.
Speaking of purposeful blending, the 2012 Moorilla cloth label red contains pinot noir, shiraz, cabernet sauvignon, cabernet franc and Riesling. Yes you read that correctly- a white in amongst the reds. Wine educator Sophie Otton's description found in the 'Cloth Label Series' by Moorilla booklet, of the final addition of Riesling in this particular blend is "it binds the different tannins of the red varieties: the velvet tannin of the pinot to the astringent t annin of the cabernet. The Riesling acts as a conduit between the various reds, harmonising the finished wine". This reminds me of when I am making a
sauce. At the end, I will add a knob of butter for sheen and to amalgamate it, bringing it all together. When I viewed the blending in this light, it made sense to me.
Conor, having spent a good deal of time studying oenology and viticulture in France, mentions just how common blending is there, particularly in the Rhone valley where blending grapes is not only commonplace, but celebrated. Think Chateuneuf –du—pape, in all its blended glory. Oh, whatever France, we can do it too! So Conor is bringing with him his knowledge of blending to the antipodes, bless him! He is expanding our minds with his wine-making talents.
This is where I found things to get particularly interesting. Usually when I think blended I think red. Shiraz viogner or grenache shiraz mouvedre, or as we Aussies affectionately call it GSM. I rarely think white. The Moorilla 2012 cloth label white contains pinot gris, riesling, sauvignon blanc, chardonnay, gewürztraminer, pinot noir. I found this description (again in Sophie Otton's words) of Conor van der Reests handling of the wine making process utterly fascinating. "by the end, , van der Reest has six separate barrels of wine which are then skilfully blended,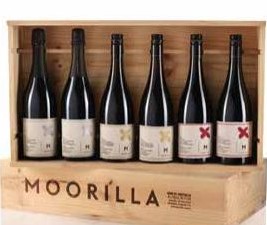 such that no variety is dominant but nuances of all are discernable in the culmination". Hmmm. Slops in a bottle? I think not! More like van der Reest being the Conductor of a beautiful , complicated symphony.
So, get out there and try a blend. If the French are doing it, we can do it too.
This article first appeared in the Australia Times Gourmet Magazine.
Images courtesy of MONA/Remi Chauvin, Moorilla Estate, Tasmania