On a recent Boomers Club Rambling Adventure Tour Event our first stop was the St Annes winery (some nice whites and a couple of good Heathcote reds) and after topping up it was off to the Daylesford farmers market for a stroll before lunch.
This is a large farmers market with many craft products and foods. The hot green chilli was to literally die for, one of our adventurers tasted a little too much and for a while there I thought we might have to call 000! Then there were the homemade creams and elixirs to reduce pain, cure arthritis, and just about anything else we might suffer from.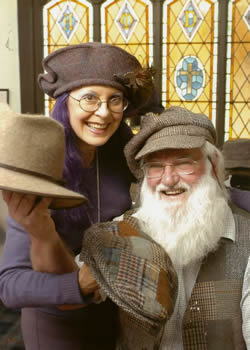 As we walked further we came across the Hat Man, selling all sorts of great and curious hats. He waived us over telling us he had the perfect hat for my lady friend.  This character had his potential customers smiling and laughing, including me. He told us his hat shop was in Gordon (near Ballarat) and went on to explain it was an old church that he also lived in.
Best of all he reckoned, was that the church was diagonally opposite the local pub. So if your in the area a visit to the church might find the holy spirit off duty, and if the Hat Man isn't there, you might want to cross the road and checkout the pub.
So after this jovial fellow lightened my wallet, I took his photo and converted it to another jigsaw puzzle for our website. Give it a try, it's fun and good for the old grey matter. Click HAT MAN to solve the puzzle.
PS. Checkout the village and the shop HERE. Looks like it could be worth a visit.